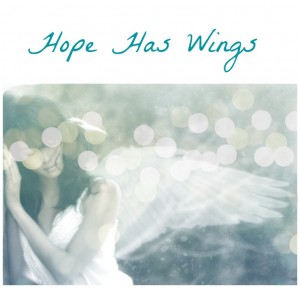 When my daughter was quite little she used to sing a song called Hope Has Wings.
It was an anthem of longing – and I would often smile at the irony of a four year old little girl singing about this notion of anticipating a new day, yearning for a better tomorrow, when the sun would shine and all would be well. How ironic, I would think, that a little girl could sing words about loss and longing, of hope deferred, hope regained, when her world was so very uncomplicated and innocent.
Not long after Jordan learned this song (courtesy of Barbie and her magical Pegasus!), tragedy struck our family. My 17 year old nephew passed away. And as his devastated mother described it, a light went out in our world.  And hope? Hope just dissipated entirely.  Gone, seemingly never to return again.
My little girl, now five, would sometimes sit with me in the quiet of our garden and talk about how much she missed her cousin, both of us trying to process the immensity of loss in our own way. So often in our conversations, we would talk about our hope and sure knowledge that one day we would see him again. We talked about hope in a time of hopelessness and it was like oxygen to my devastated soul. Often my beautiful little girl would remind me quietly "Hope has wings, Mummy." And her honest, earnest belief in hope would stir my heart afresh.
What about you?
Has despair dealt you a cruel blow in recent days or years?  Has the light gone out in an area of life that once radiated with promise and opportunity? Has a relationship ended? Has a loved one passed away? Has life struck a heavy blow in the area of finance or career or health?
I wonder what hope looks like for you in the face of disappointment, loss or distress.
How do you build resolve and look forward in the times when all strength seems gone and life is simply overwhelming?
It takes baby steps doesn't it? Sometimes it takes choosing to dance in puddles again, just because you can.  Choosing to smile at what you do have and celebrate what is still to come. Surrounding yourself with people that understand that life for you is 'under reconstruction' and that your experience of lost relationship or lost meaning or lost opportunity has resulted in a 'new' normal. Taking your lead from your heart, not just your head, and being kind to yourself on those days when it's all too much.
I wonder, does hope transport you in times of doubt and discouragement to a place where the sun still shines bright and life is rich with both memories made and opportunities to come?
For our family hope looks different every day. New life and new surprises bring sunshine even after the rain.
My nephew's sister got engaged last weekend.  We are thrilled for her and love watching her life blossom after a season of unspeakable loss. She is beaming, giddy in love and beautiful.  And none of us can stop smiling.
Morning has broken. And though we will always remember that which has gone before, our hearts are hopeful again in the light of a new day.