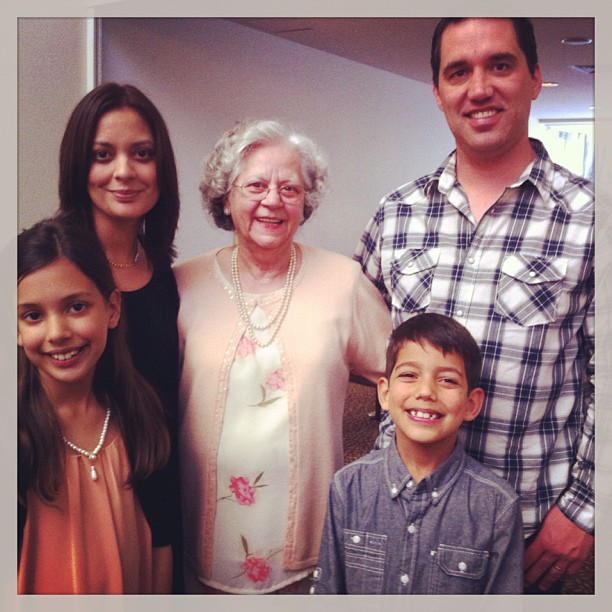 It is my own mother who has given me the greatest example of what it means to be an authentic champion and relentless cheerleader of others. My mum is a mother of five children and grandmother of nine. But she is also a quietly available, deeply loved and highly respected matriarch. Born in 1933 into particularly humble circumstances in a tiny country town in West Bengal, India she remains the adored eldest sister of six close-knit siblings. As it happened in days gone by, Mum learned early the things of sacrifice, nurture and loving selflessness as she assisted her own mother in the care of her younger sisters and brother. Well before the arrival of her own firstborn, my mother crafted her own indelible mark as a nurturer of others.
I smile at her genius of making every individual feel special, heard, seen, cherished. I watch as both kin and strangers alike are stripped bare by her kindness. She smiles at the future and is courageous through adversity. She prays earnestly for miracles in the lives of those who desperately need them, especially when they cannot summon the strength to pray for themselves. I glean from her example of temperance and fortitude, quiet humour and extraordinary faith. Her capacity to lavish her children with genuine affection knows no bounds, and ever since I came along (the surprise package in her 42nd year – 22 years after her firstborn, mind,) I have always, always known that I am deeply loved.
I observe her fascinated, often hilarious, always adoring interactions with the brave new world of her i-generation, global village-roaming grandchildren and the unique way in which she honours and intuits their individual journeys. Her connection with each one is meaningful and beautiful as she basks delightedly in their observations of this amazing world. She is both supremely wise and utterly teachable and both these qualities are gifts to the ones she loves.
She lives deliberately and delicately, knowing instinctively the moment when each is most required. Her empathy toward the fragility and mystery of life is something sacred to behold: I  watch in awe as she prays, constantly, for the needs of others. And when the miracles come, as so often they do, she just smiles, nods quietly and does her best to act politely surprised – as if she and God didn't have a secret understanding that this beautiful moment was always on its way.
Today Mum is two weeks off her 81st birthday. Her children and grandchildren are making plans to surprise and lavish her with love on that special day. This is our privilege, another precious opportunity to express gratitude for all she has brought to our collective experience of life. Yes, her pace has slowed, but she remains a quiet treasury of immense wisdom and occasional mischief. She makes the best cup of tea, and the meanest of curries. She refuses to gossip, wears no guile and treats everyone as though they've never faltered. I am so glad to call her my mother and so grateful to be her daughter.
So many lessons have been learned at her knee, by her side, in her shadow. I have revelled there, drinking deeply from the font of my mother's wisdom and unconditional love.
I am richly blessed.
XXOO
Aly